For creating a custom view of COYO for every user!
Behind this simple statement lies an initially complicated concept: every major action in COYO is linked to a right that is assigned to the individual users.

You can imagine the structure of COYO's rights and role concept like the construction of a pyramid: Within COYO, the so-called "standard" or default role is the foundation on which everything is based. In this role you define what a user should be able to do minimally, because the standard role is superior to everything else and cannot be restricted by other roles. All other rights in other roles are therefore only ever added as a supplement, never as a restriction.

Accordingly, the other roles are to be seen within COYO: As with a pyramid, the number of assigned rights decreases upwards. The standard role is therefore the most frequently represented role in COYO. This way your rights and role pyramid also represents a hierarchy. The more rights a user receives, the higher he is located in the pyramid. The more rights, the rarer the role is represented in COYO.
Which roles are there apart from the standard role?
Page or Workspace Admin
Each page and workspace has at least one administrator. When a new page or workspace is created, the creator automatically is the administrator of that page or workspace. Additional administrators can be added to the page/workspace settings during creation - or alternatively later. As an admin you have access to the options. For example, you can add new apps, view and edit all files on the page/workspace, and adjust the settings (e.g. visibility or administrators). You can also edit avatar and title images or remove inappropriate posts.
Moderators
Whoever should be a moderator in your COYO is something you should reconsider carefully. A moderator is an editor who can switch to all content areas of COYO by activating this special mode (except private chats).

In moderator mode, you can for example change any avatar or title image (on pages, profiles, and in workspaces). You can delete content that you have not created (e.g. inappropriate content). And you can edit any layout.

Accordingly, the number of persons to whom you assign this right should be rather small - as a rule, it is sufficient if your management, the project team and important content creators, e.g. corporate communications, have this right.
Superadmins
Superadmins are the top of your rights and role pyramid, because they not only have access to all areas of administration anytime and anywhere, they also have the possibility to switch to moderator mode within the interface. As a rule, there are never more than five Superadmins - even for very large companies.

The initial user (who usually performs the setup) is automatically a "super admin". If a user is created in the user administration - or also later in the processing -, he/she can be promoted to be Superadmin. Only a Superadmin can make a user a Superadmin. Users who have been promoted to Superadmin in user management automatically have all global permissions, including moderator mode.
What do the different rights mean?
To give you a better idea of what the individual rights are, we have added short explanatory texts for each individual right. You call them by moving the mouse pointer over the question mark.
What do the single terms mean?
Some terms appear more frequently in the area of rights and roles. Therefore, we would like to introduce you to the four most important terms in the course of developing a rights and role concept:
"Access": describes the visibility of an element to the user. Without access rights to "Channels", the item is not displayed in the user's view.
"Create": describes the possibility to add new elements. If this right is not given, the user has no option in the interface to add new elements.
"Edit." (in connection with the admin rights for the respective item) allows access to the settings and the files
"Management of apps": (in connection with the admin right for the respective element) allows the addition of new apps, as well as the editing of existing apps including the settings of the respective app.
What does an appropriate default role look like?
Basically this decision depends on how you want to start with COYO. If you want to make all areas visible directly, but you don't want users to create new elements themselves, an initial default role could look like this: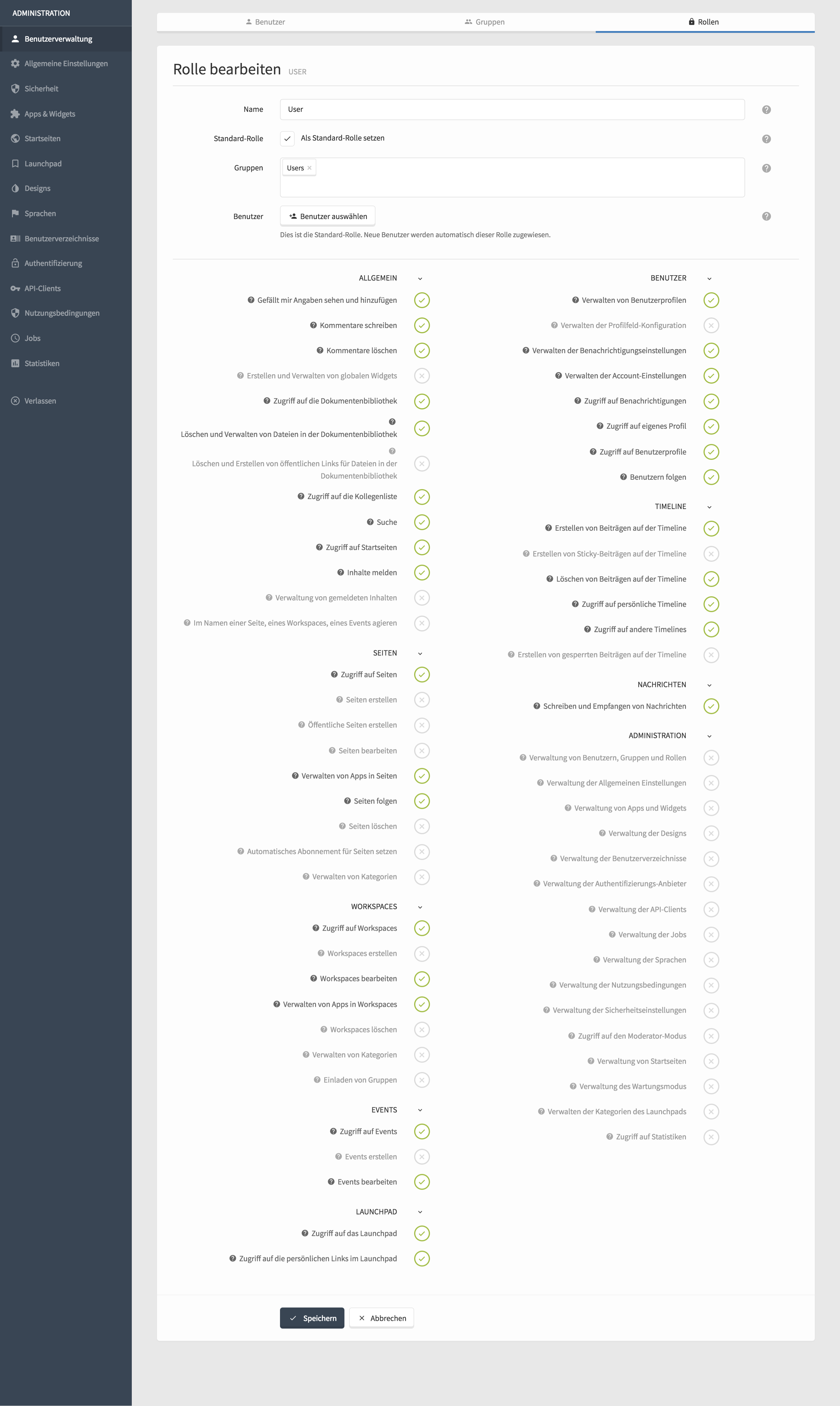 What is a user able to do with these rights?
All social functions for timeline items are available to the user, he can like, comment and edit contributions accordingly, he can call up his own timeline as well as those of other users and global timelines, e.g. on start pages.

Your own profile as well as personal settings and notifications can be managed by yourself. In addition, you can upload your own documents and view public documents, and if the element settings allow you to access and change them.

Pages and workspaces are both visible, but no new items can be added. For workspaces, users are allowed to edit settings and manage apps. For pages, the decision has been made that only apps may be edited. A similar configuration applies to events: new events cannot be created, but existing events in connection with admin rights for the "host" allow editing.

FYI: Channels as well as the launchpad can be used in full!